References
Exclusive apartment in Riehmers Hofgarten in Berlin, Germany
Living in cultural heritage. This carefully renovated apartment in the historic Riehmers Hofgarten residential estate in Berlin is a unique urban retreat.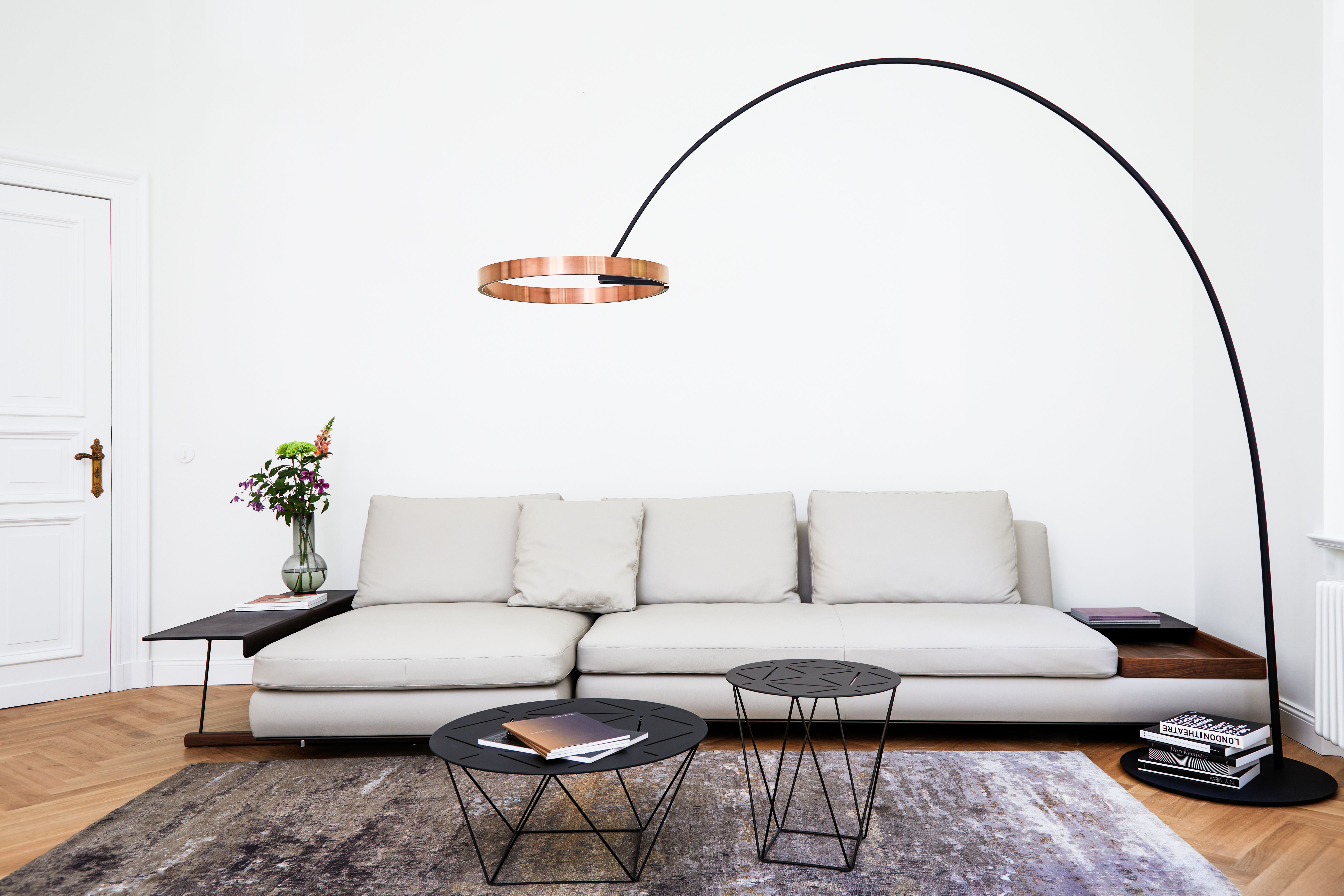 A place of longing, cultural heritage, and an exceptional residential address – Riehmers Hofgarten in the heart of Berlin's Kreuzberg district is all of these things. In 1881, master builder Wilhelm Riehmer created a visionary design, counter to the prevailing zeitgeist.
In contrast to the cramped rear buildings with their inner courtyards, Riehmer's estate contained spacious apartments that revolved around a splendid courtyard garden of their own – designed with magnificent portals and a host of artisanal elements. This spirit – a place for those who love and live for beauty – is still reflected today in the beautiful Gründerzeit quarter with its apartments.
"Riehmers Hofgarten is an extraordinary listed piece of history. Out of respect for this impressive ensemble of buildings, we have been cautious in our restoration and renovation work. It is a unique cultural oasis in the heart of Berlin's trendy Kreuzberg district."

Jörg Neuß, General Counsel ACCENTRO Real Estate AG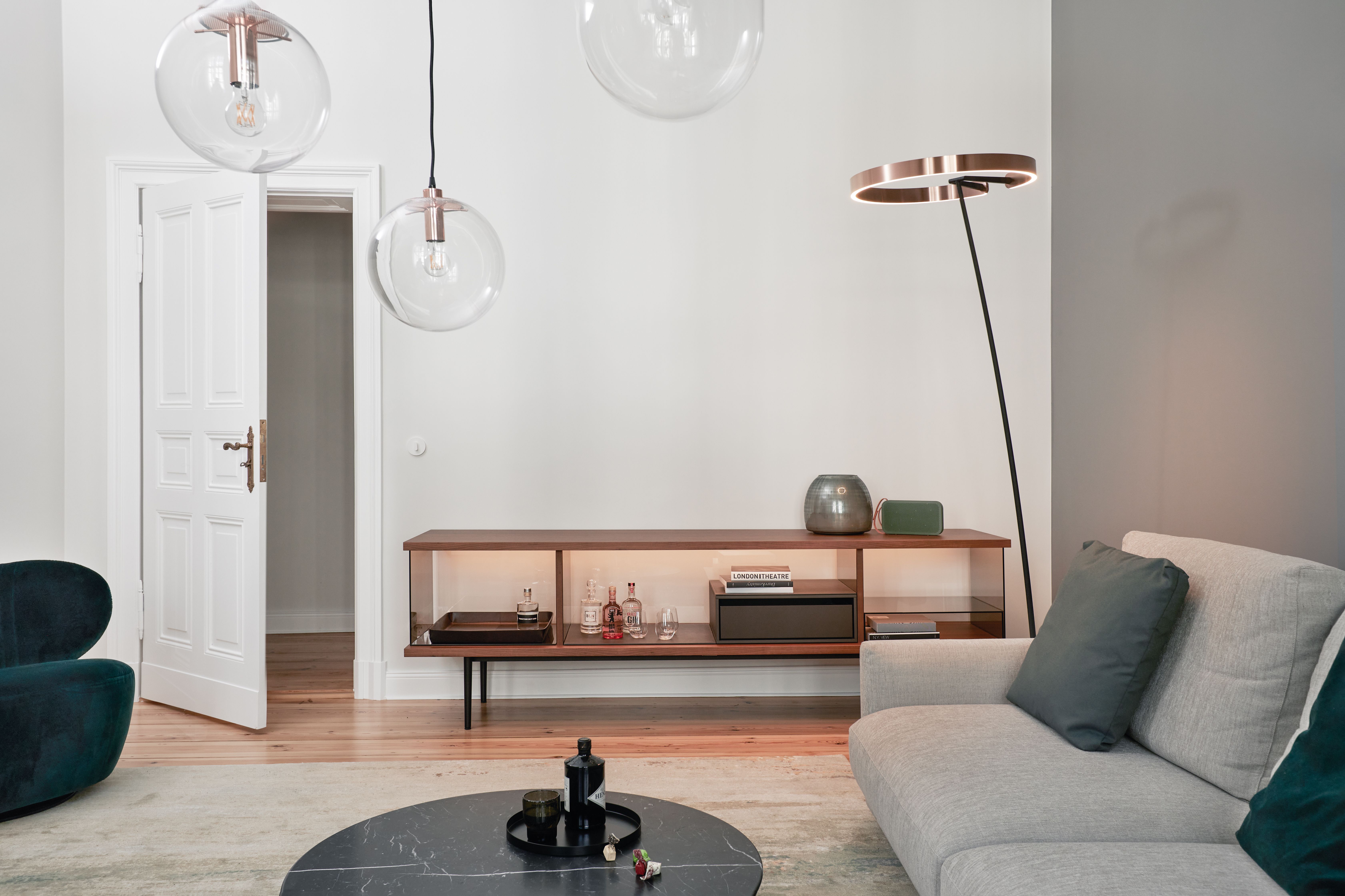 A place of peace and harmony
High ceilings, elaborate stucco elements, parquet floors and elegant coffered doors. Anyone entering this flat in Riehmers Hofgarten senses the historical charm of this architectural gem while experiencing how carefully curated furniture and materials add depth to the rooms, set accents and create a unique feel-good atmosphere.
The Walter Knoll planning team implemented the entire interior design concept in-house – from the selection of upholstered furniture and materials to wall colors, carpets and accessories. The apartment is used both as a second home and as a show apartment for ACCENTRO Real Estate AG.
The project marked the start of the collaboration between Walter Knoll and the residential investor. We also extensively planned, designed, and implemented the showroom and sales area in ACCENTRO Real Estate's headquarters on Kantstrasse. Shared values, a common sense of high quality and, above all, a human connection form the basis of this special partnership.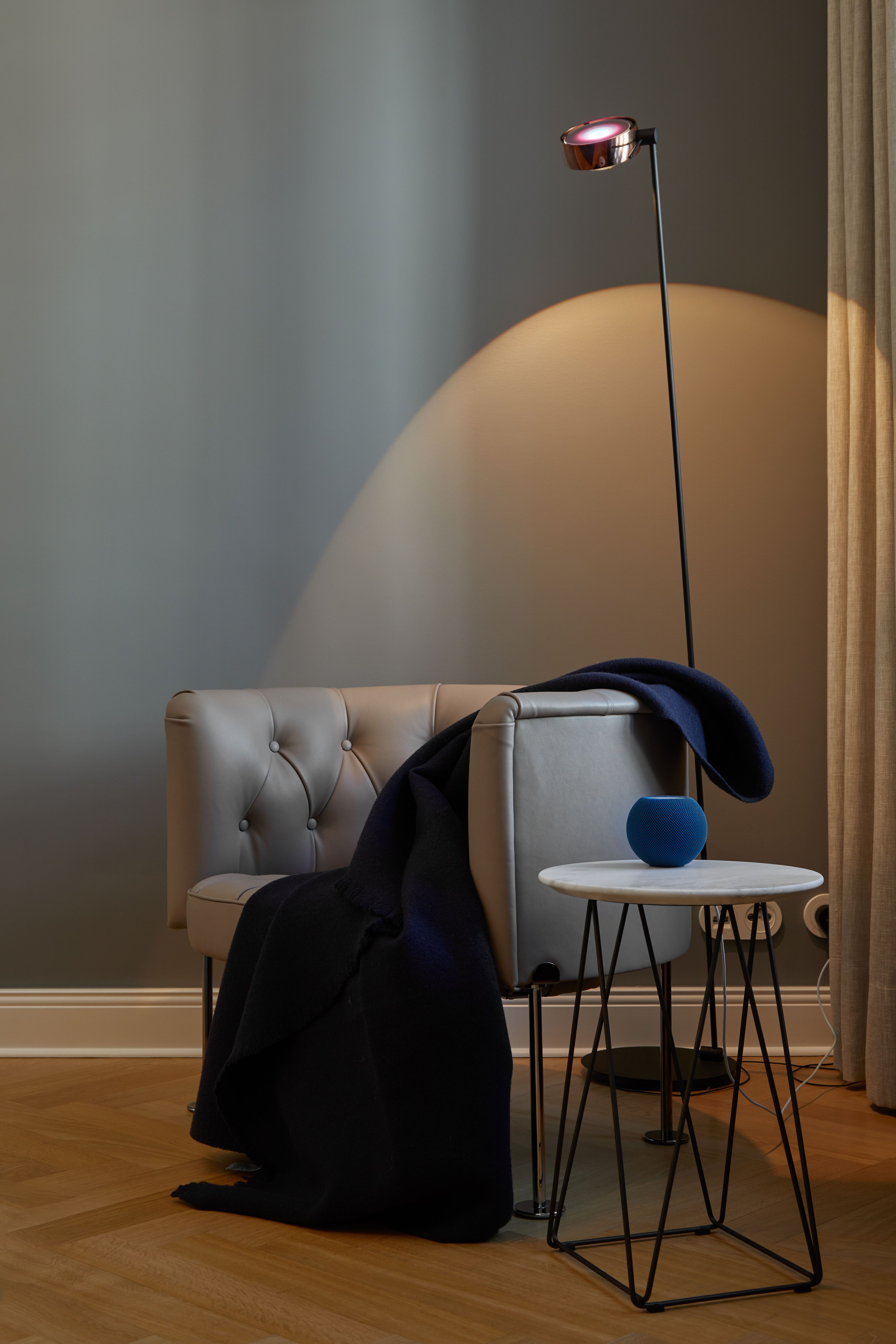 "Beyond products and strategy, it is the people behind the brands of the two companies that made the connection. An ideal starting point for a very good partnership."

Jörg Neuß, General Counsel of the ACCENTRO Real Estate AG
Relax and be yourself
The living room is a private refuge. Our Grand Suite Sofa, combined with the carefully considered selection of materials, colors, fabrics, leathers, wall paints and draperies, underlines the exceptional quality of living and the upscale nature of the space. At the same time, the sofa gives the room an airy, bright, feel-good vibe. An invitation to retreat, lean back and gather new strength.
Tama Living creates an oasis of privacy and tranquility. Here, darker tones of rich greens and blues, as well as browns, dominate here. The colors and variety of materials create contrast, give depth to the space and provide an exceptional level of warmth and comfort.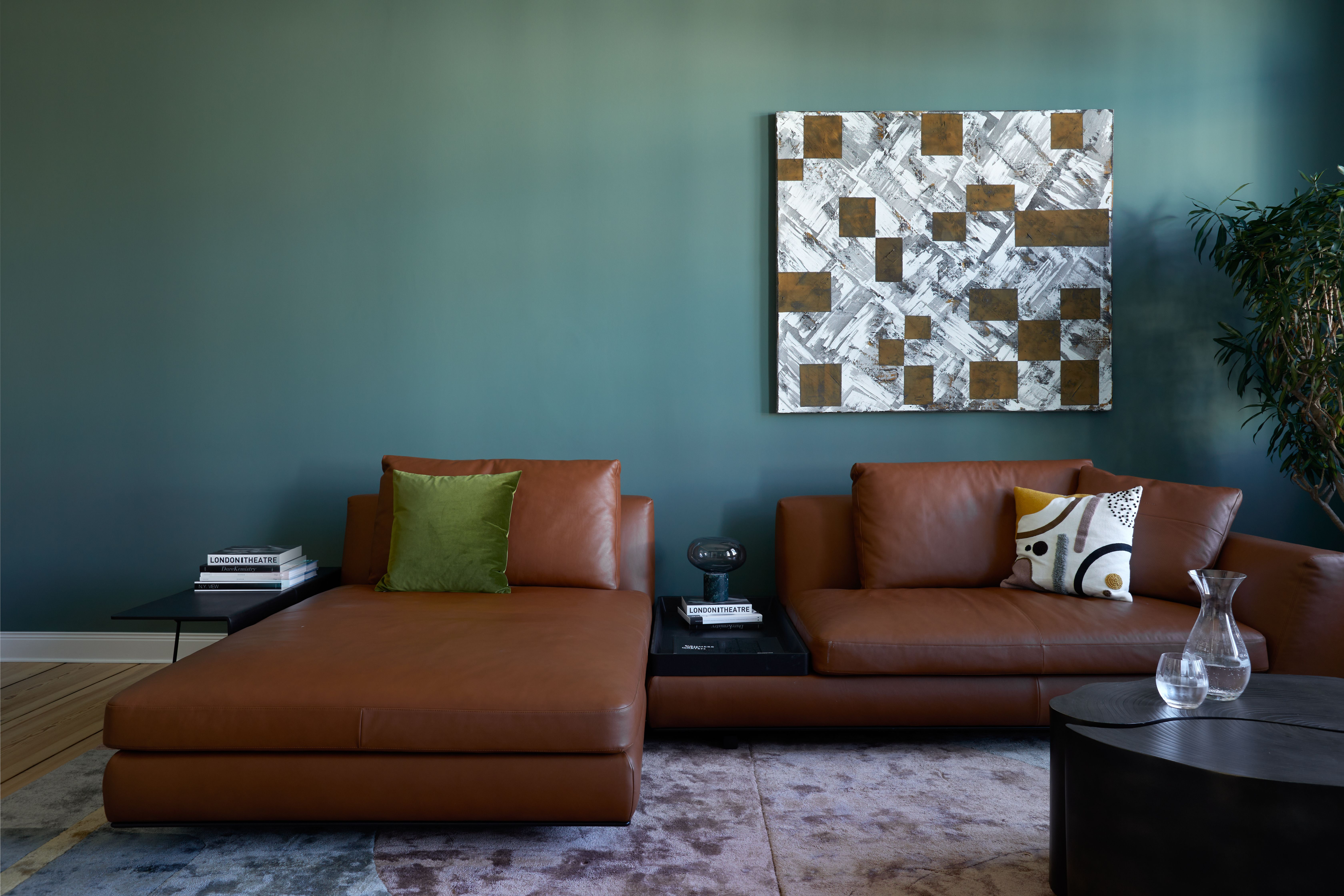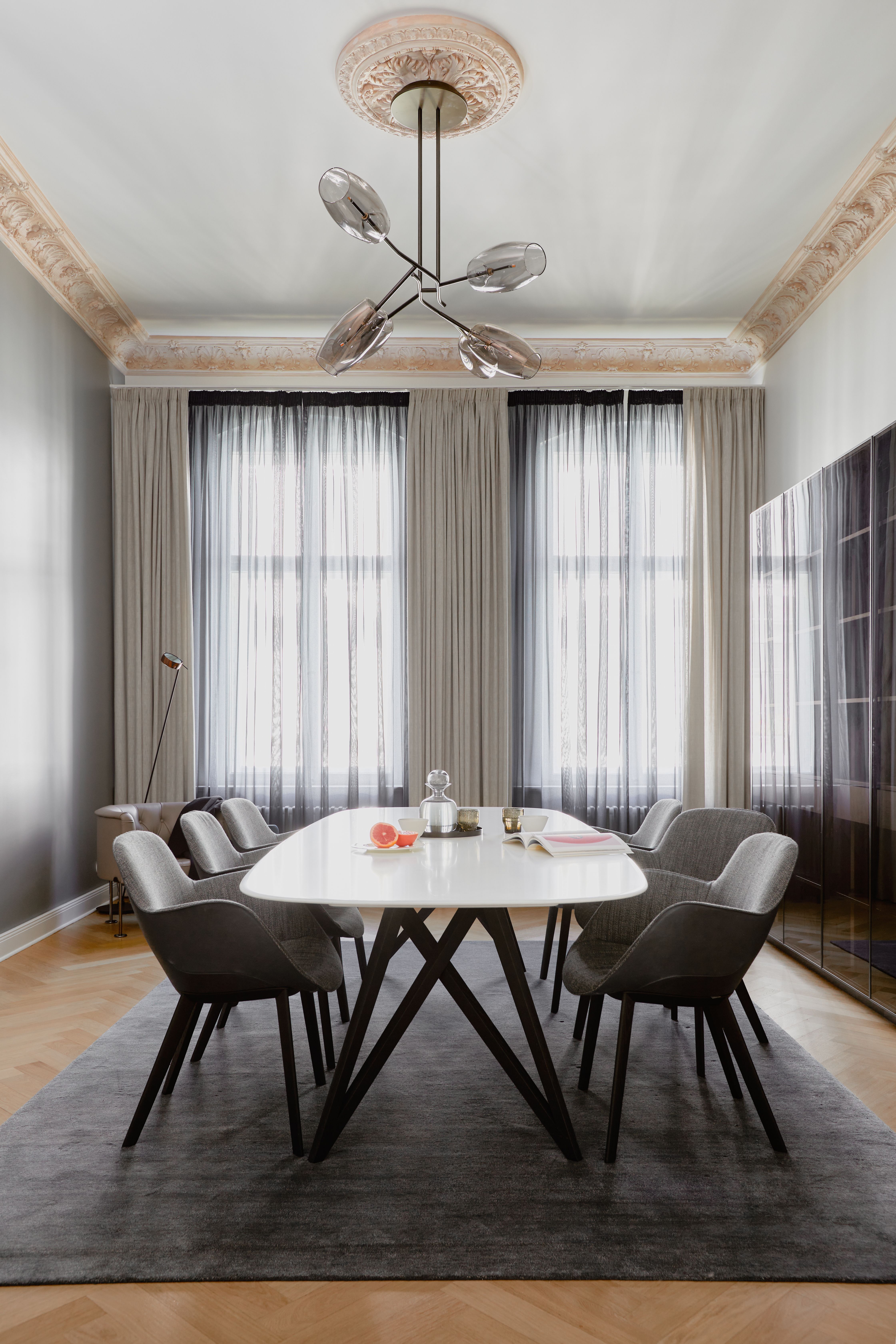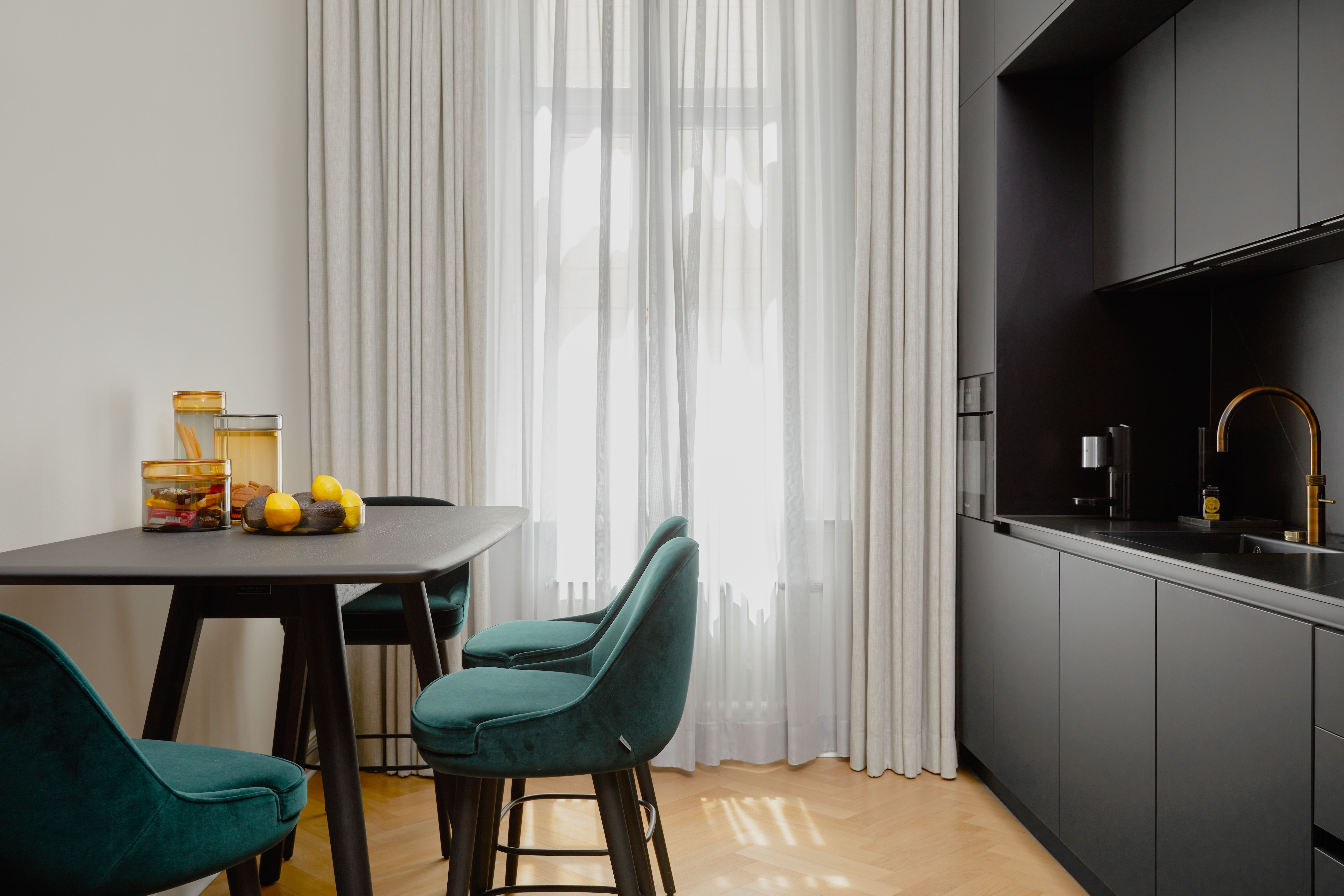 A balance of old and new
The dining room and kitchen have been designed with individual characters in mind. The elaborate stucco ornamentation bears witness to the ensemble's historical roots, while the Sheru chAIR, 375 Barstool and Seito Table unite the elegance of salon culture with exceptional comfort. This is a favorite place to sit, whether for a quick cup of coffee in the morning or when friends drop by in the evening.